Digital Marketing is promoting your company or product through the internet. Digital marketing includes email marketing, digital display ads, and SEO. For a company, digital marketing is a way of creating buzzing news around their company's products or services. Businesses use digital marketing to reach out to potential customers as well as existing customers. Often times these efforts include setting up a series of blog posts, featuring a recently published ebook, or sharing a video about new or updated products. In the long term, if these efforts are successful, they can give a business or company a long-term advantage over competitors. 
Why Digital Marketing Is Important
Marketing on the internet, and using social media to promote businesses online are the most effective ways of creating prospects and sales. The following are reasons why digital marketing is important for a business brand.
1. It Helps You Find Your Audience
Digital marketing has the capacity to identify and target highly-specific groups of people. Tailored high-converting messages are then sent to these groups. For example, If you're selling properties in the western states, you target Facebook users in states where you know they're purchasing more properties. You might use pay-per-click (PPC) or search engine optimization (SEO) in order to keep your ads sent to people who've shown interest in houses, properties, and real estate.
You can also use digital marketing for direct marketing, such as sending messages on Twitter or Facebook to friends who might like what you have to sell.
2. The Cost Of Inbound Marketing Is Cost-Effective
The digital age has given users control of their marketing channels and the way they're used. Companies No longer need to invest money into physical locations or advertising that doesn't have much of a return. They now know how effective their channels are and can make plans on whether or not to allocate more funding to increase their reach or spend their money where they get the best return.
3. It Gets An Audience For Your Products
Through digital marketing, the evolution of e-commerce has made it possible to access prospects and customers that you'd never be able to access through traditional means. You can reach millions of worldwide customers online via e-mail, websites, and mobile devices. All of these individuals are potential customers and can purchase your products in a variety of ways.
4. Companies Are Working With Consumers As brands Are Now Competing With Eachother, The Aim Is Now To Get In Close To Their Audience
Small businesses often miss out on the chance to get out on social media such as Facebook just because they are scared of facing big companies head-on and competing with them. In order to be efficient online, businesses must implement marketing and branding strategies on social media sites and digital marketing makes all this possible.
For example, if you are searching for a term that has a high number of search engine traffic to your website, this gives you a leg up over your competitors.
Digital Marketing Vs Traditional Marketing
Digital marketing enables companies to track how impressions, clicks, and conversions translate into purchases or the development of leads. Unlike traditional marketing, digital marketing allows for a marketing message to be delivered by an advertiser to a potential customer as if the customer had purchased such a thing. With digital marketing, the audience that receives the advertisement sees immediate results. Advertising agencies can measure how many people actually saw the advertisement, whether they called the company, bought the product, or signed up for the service, and whether they did so because of the advertisement or because of other marketing efforts such as ads preceding the advertisement.
Types Of Inbound Marketing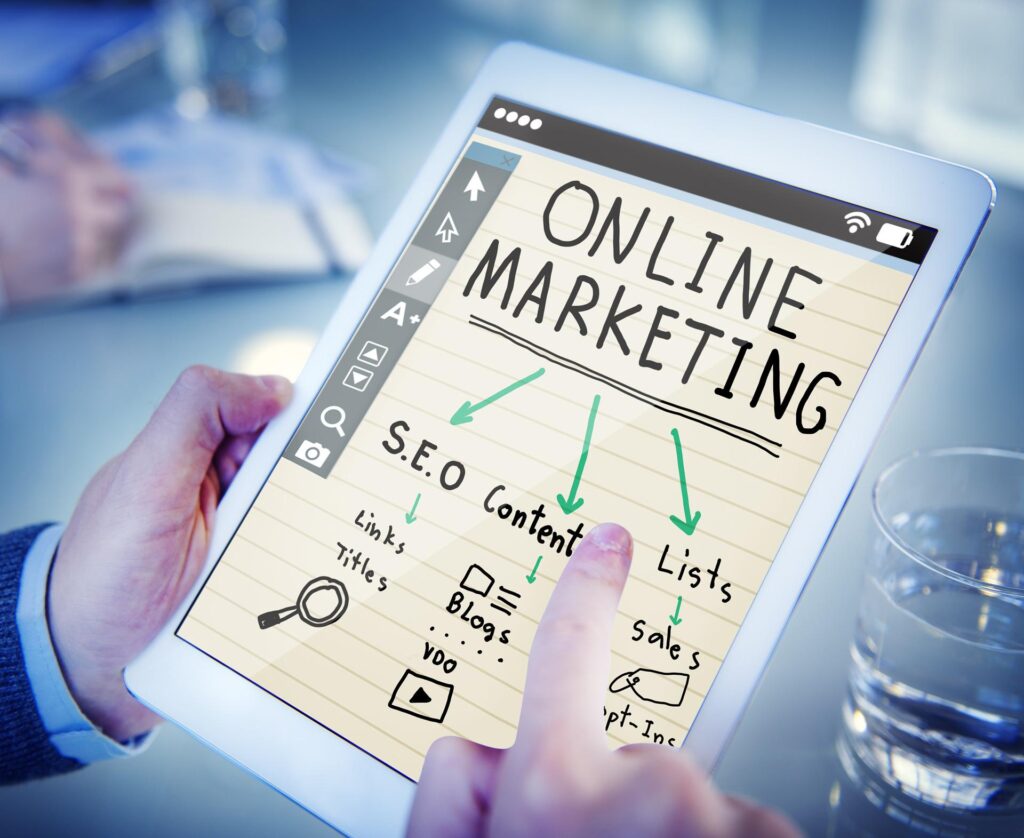 Digital marketing includes a wide range of methods that businesses, governments, and non-profit organizations use to promote their products and services on the Internet. These tactics range in the following methods.
Inbound Marketing.
Outbound Marketing.
Search Marketing.
Advertisement for social media.
Email Marketing.
Content Marketing.
Digital Advertising.
Affiliate Marketing.
Paid Advertisement.
Initial Steps For Starting A Digital Marketing Program
It's imperative that you make sure to learn the basics of social media marketing before you get started marketing your business. On this website, it's our role to guide you through the process to make your social media marketing effort successful.
Create A Website
In order to successfully start digital marketing and reach more customers, you'll need a well-optimized website. Create a website with a reliable host to help manage your website.
Buy an SSL certificate
An SSL certificate is necessary to secure and lock up your website when selling your product over the internet. It's just a simple and free process, and usually the best and most economical option for website owners.
Create An Online Page
If you want to start selling online, you need to set up a webpage to promote your products and services. Besides, you can create an account for a vendor page on Amazon, eBay, Etsy, or other sites like Facebook and many more.
Get A Mobile Compatible Website
Your website must be compatible with mobile phones so that it can be accessed by smartphones and Android systems on the go.
SEO.
Search Engine Optimization is the process of helping websites appear higher in search engines. SEO is vital to the success of your website.
Email Works Best If You Can Target Your Leads Properly.
If your website is being visited every day, you need to keep emailing them about new products and services and let them know you exist. email advertisement media will also help you reach new users.
Facebook Advertisement
You need to sign up on Facebook for your business to do well. The Facebook advertising service can help boost your business. Once you've enrolled in this service, you're going to be able to send it to a larger audience. Make your business popular through Facebook this week or as soon as possible.
Google Sales Analytics
You should use Google to sell online business. An ad-funded-based model that will allow you to make money online and also promote your business.
Paid Advertising
Making a business popular can be difficult and only a paid marketing strategy will make you popular in this day and age fast.
PPC
Search engine pays per click, A method of advertising your business, payment method is based on how many people clicked on your content.
Branding And Logo Design
To start a new company, a business owner needs a good digital marketing strategy. This strategy needs to create a new brand identity and provide quality products or services. There are many different ways to do this as you can hire a graphic designer or use software to create a business brand.
Here Are Some Tips To Help You Learn And Succeed In Digital Marketing.
Choose A Professional Trainer
Internet Marketing is an extensive discipline, which means that there is a lot of reading to be done. You may have to spend time reading the material available before you feel ready to start learning. However, it may be necessary to enroll in a professional online marketing training program to get off to a good start.
Write Down Everything
We need to be aware of what we want to remember or even what we may want to forget. If you do not keep a notebook to yourself to jot down things as soon as you know them, you will have to remind yourself later. This makes matters worse in the long run and is a time saver in the short run.
Setting A Blog Up Is A Good Idea
The blog feature is a useful way to learn new things, get ideas, and share what we are doing. You can use the blog feature as you create your own blog page or you can read the blogs of other users. In addition, you can use the blog feature to share your pages with others.
Use Search Engines To Help You Find Classes, Workouts, Or Routines To Meet Your Needs
A lot of free information is available on the Internet. To help you find the right source, just type your keywords in Google. With your keywords, you can find a list of search results, journals, articles, and blogs. It can take time to find the right information but it will be worth it if you find a good resource.
Read Good Books About Marketing
Reading good books and checking out books about digital marketing at your local library is a great way to get introduced to the latest trends in digital marketing. Doing this will also give you a chance to explore the world of books from other cultures and countries.
Conclusion
Digital marketing can be done online with even smartphones and PCs. Anyone can promote their brand with the click of a button. It is very important to have a professional who can give your website a digital makeover if you want the finest results for your business. Click here for more information on how to promote your business and also get professional assistance.
This blog post is all about what, how, when, and the process of digital marketing. The digital marketing world is a great place to be in if one decides to start a business but it can also be hectic and stressful, there are a lot of terms and different things to learn especially if you are new to the game, then you might find out that the possibilities are endless and the competition can be overwhelming. It's a fact of modern life that not everyone who tries will succeed but that doesn't mean you should give up on your dream of improving your company, business, or personal brand to a greater height. We hope this article helped. If you found it insightful? subscribe with us today, You can also contact us with questions about digital/online marketing.